Barcadera

Barcadera, the Logistics Center
Barcadera offers a strategic base in the Caribbean being centrally located on Aruba, only a short distance from the international airport, the designated freezone area and with well-established connections to all business locations on the island. With calm water conditions and safe access from Aruba to both North and Latin America, Barcadera is a logical Logistics Center.
Caribbean Center
Aruba is a well-developed island, with a unique position as the most westerly of the Caribbean Overseas Countries and Territories (which hold a special status within the European Union). Aruba boasts a high standard of living with a multilingual and highly educated workforce.
There is a strong drive and vision for energy transition and innovation on Aruba. This vision will not only enable the island to become more sustainable, but it also contributes to the creation of a knowledge based economy and high-tech employment. In order to develop the 'smart and sustainable' island economy, attractive incentives have been implemented for companies with value added potential wishing to establish their business on Aruba.
The island breathes a general sense of security and has a very low crime rate. Climatically it is also a safe haven during the hurricane season as it lies outside the hurricane belt. A safe Center in the east-west and then north-south trade corridors.
Barcadera Business Park
The Barcadera Business Park, including the designated freezone area, is centrally located and easily accessible with the modern and expanded international airport at just 5km distance. It also boasts very good connections with Oranjestad and San Nicolas, thanks to the Green Corridor and Watty Vos Boulevard roadways.
This favorable location, combined with its current and future added qualities, are factors that make the Business Park extremely attractive for a variety of companies and activities. With Customs just around the corner, the handling of international cargo will be that more effi cient, be it over water or through the air. The area has been identifi ed as a Business Zone in the spatial development plan of Aruba. Companies with amongst others port related activities are therefore more than welcome in this area.
The multimodal connectivity with a modern international airport and a state-of-the-art multi cargo sea terminal close at hand, make Barcadera a fantastic logistical hub and business center.

DEDICATED MULTI-CARGO SEA TERMINAL
Barcadera is a good example of how a Business Park should be designed to be able to meet current and future demands of modern logistics services. This location guarantees a direct connection to a dedicated multi cargo sea terminal, operated by ASTEC N.V.. The Business Park houses a diverse cluster of industrial activities and companies, for which the adjacent terminal acts as a dedicated stevedore, with value added services, such as bonded warehousing, and 40 reefer positions as a great advantage. A 440 meter long quay with 11 meters of quay depth guarantees excellent accessibility for waterside operations. ASTEC can handle a broad variety of cargo, ranging from "barquitos" (small wooden vessels) with fruits & vegetables, to regional feeder vessels carrying containers from multiple lines. Additionally, break bulk materials (like vehicles), specialized cargo (such as wind turbines and diesel generators), yachts and heavy equipment for specialized construction services on the island are loaded and/or discharged at this terminal. The terminal also handles the unloading of aggregates, cement (dry bulk), gas and lumber (bundles). In addition, the terminal lay-out has been designed allowing to handle ample growth in cargo volumes towards the future. Essentially all sea-borne cargo imported to and exported from Aruba, flows through this terminal without a problem.
OPPORTUNITY AND FOCUS ON FURTHER DEVELOPMENT
Dry Area North
This property comprises 100,470 m², divided into 17 plots of land. These plots are located north of the Barcadera Multi Cargo Sea Terminal. These 17 plots are available for new business. The business segments that have been identified as having the most potential for this area are: logistics, warehousing and small scale industry. This includes, for instance, forwarding companies, cold storage and/or companies in agriculture.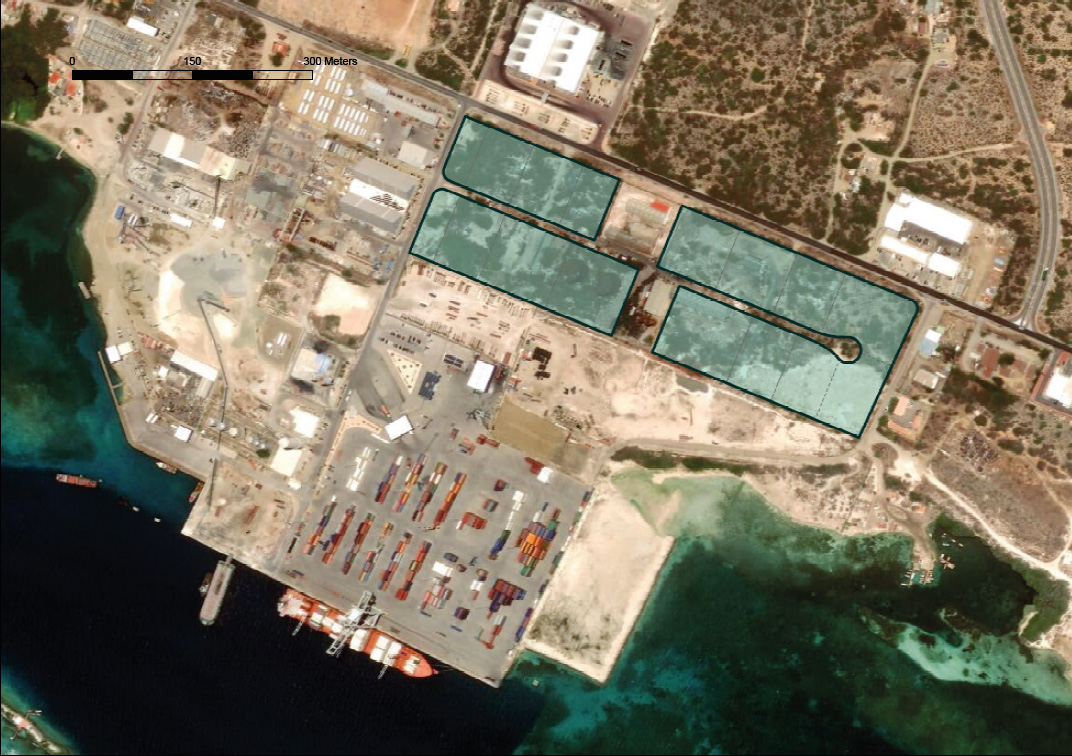 Reclaimed Land East
This property consists of a recently reclaimed plot of land, located to the east of the ASTEC terminal, with a water connection to the south and east of the property. This property of currently approximately 40,000 m² is available for further expansion. It is expected that similar depth can be realized as with the existing terminal quays: 11m. Based on a market assessment, this reclaimed area shows a lot of potential for energy generation, transportation and distribution including renewables, offshore services and/or commercial recycling – and waste processing activities. This includes companies active in the wind turbine industry, suppliers for the offshore industry or yachting. These markets are growing and the expectation is that there will be an increased need for port space to further develop and facilitate these activities on Aruba.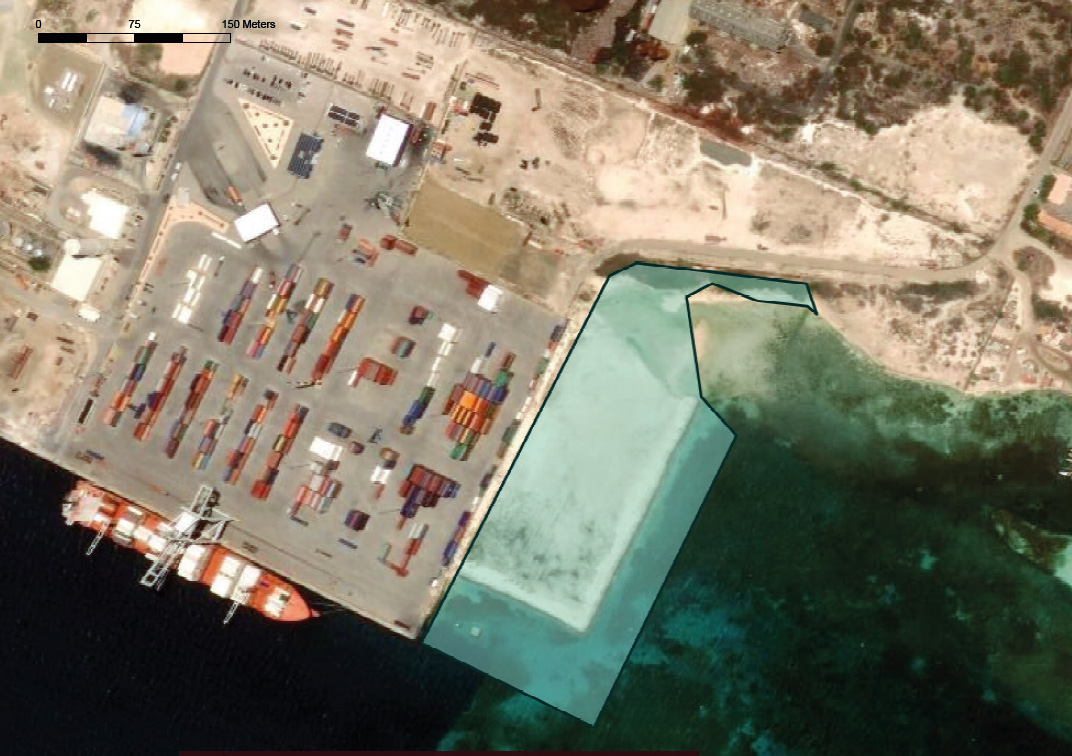 MORE INFORMATION?
Would you like to find out more about what these locations can offer you? We are more than happy to discuss the possibilities with you! Contact us for additional information.
---
The information provided by Aruba Ports Authority NV on this website is for general informational purposes only and contains no legally binding offers, statements or notices. All information on this website is provided in good faith and is subject to change. Aruba Ports Authority NV makes no representation or warranty of any kind, express or implied, regarding the accuracy, adequacy, validity, reliability, availability or completeness of any information on this website. Aruba Ports Authority NV shall not be liable for any loss or damage of any kind incurred as a result of the use of this website or reliance on any information provided on this website. Your use of this website and your reliance on any information on this website is solely at your own risk.
Scroll To Top